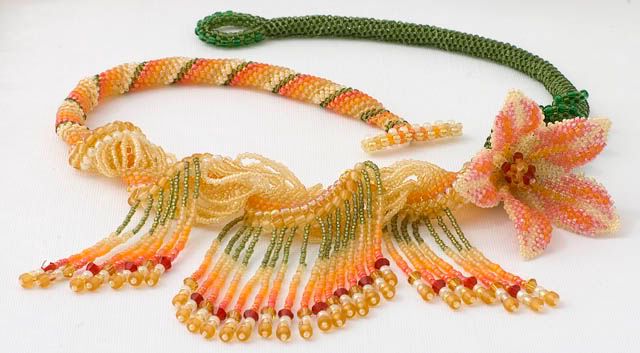 Katinka stretched, opened her eyes, and
knew
. It was here. No doubt about it. She flung open her window and laughed; the morning air was cold, cold, cold, but spring was definitely here. She sang in the shower and danced while she did her hair and makeup. Getting dressed, she went straight for the brightest colors she owned; this was not a day where she could be content to fade into the woodwork.
Fruit! She suddenly craved some; she cut up the mango she'd bought the other day in anticipation of spring, and felt her knees go weak with its juicy sweetness. She ate ravenously, recklessly; the fragrance of its flesh filling her nostrils, and its soft, slippery pulp sliding down her throat.
Looking at her bare feet in their strappy sandals, she kicked up her heels and laughed. Spring. Finally, finally, it was here.
© 2009 Cynthia Newcomer Daniel
Hand fabricated from seed beads. The flower is based on a pattern from the April
Bead and Button
Magazine by
Melissa Grakawsky
.