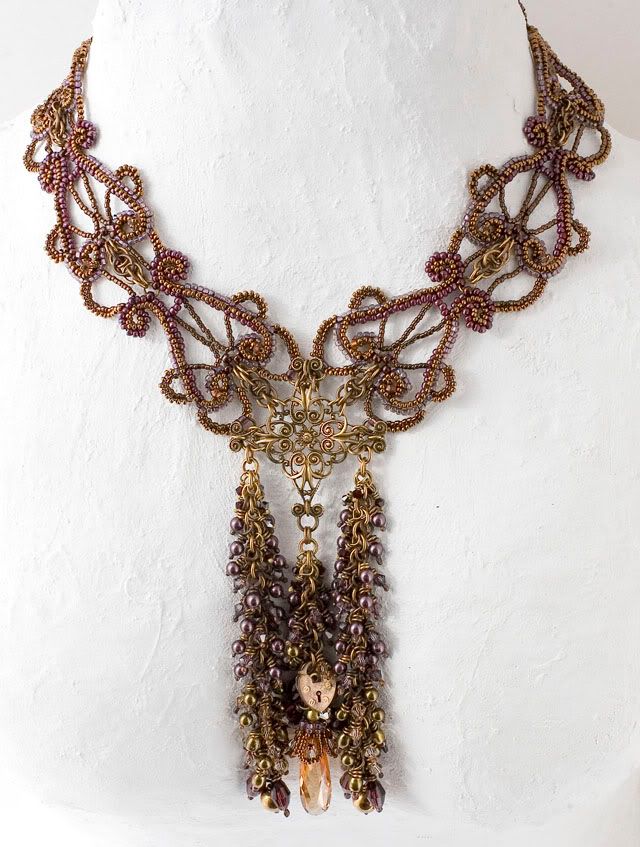 Her nerves were gone.
Just like that. No more anxiety; no apprehension at all. All week, her fear had been building to a fever pitch; she had been certain that tonight she would collapse like a soufflé, her insides runny and sad, the rest of her crumpled into a heap. But no. Mercifully, she was intact. Intact and unafraid.
Scarlett looked at herself in the mirror and was sure. She was ready. Everything in her life had led up to this moment; every day had been only a rehearsal for this night. She ran through a vocalise for confirmation; her voice was rich and easy. She smiled; a dazzling smile of pure joy, and opened her dressing room door. Carefully, she walked out to the wings; her cue would come soon. The orchestra swelled, and her heart rose with the sound.
She was on.
© 2009 Cynthia Newcomer Daniel
Brass filigree and chain maille, seed beads, swarovski crystals and pearls, cubic zirconia. This necklace won first place in the
Use the Muse
contest. Hand fabricated.