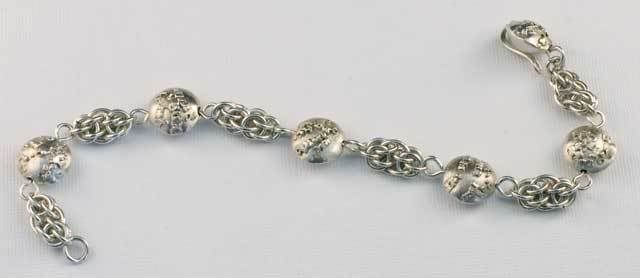 "What was that saying?"
she muttered, "Something global, something local?" She stared at her cat, as if expecting an answer, but got nothing. The cat yawned and blinked but didn't speak.
"Figures," she spat in the general direction of the cat as she got up from the computer and left the room, "I don't know why I ask you anything, anyway."
She caught sight of herself in her bedroom mirror and let out a whoop of laughter. Never mind the world; she'd better start with her own hair. It was standing straight up as a result of being raked by her fingers while she racked her brain for that trite saying that was still missing from her mind.
"Never mind," she told the cat, loftily, "I never use cliches, anyway."
© 2008 Cynthia Newcomer Daniel
Sterling silver. Hand fabricated chain and lentil beads.